Student profile // Meet Agathe Touguet
IDO Diploma student Agathe Touguet is an inspiration – not only is she producing stunning course work, she also has her own interiors studio and has launched a successful bespoke furniture business.
Since moving to Australia from her native France four years ago Agathe was inspired to change careers and study interiors online with IDO. Although she says she misses her family (especially since COVID has curbed international travel) and French food (…"there's nothing better than a smelly cheese on a crunchy baguette with a good glass of wine!" ) Agathe absolutely loves the Australian lifestyle and weather and is thriving in her new creative career.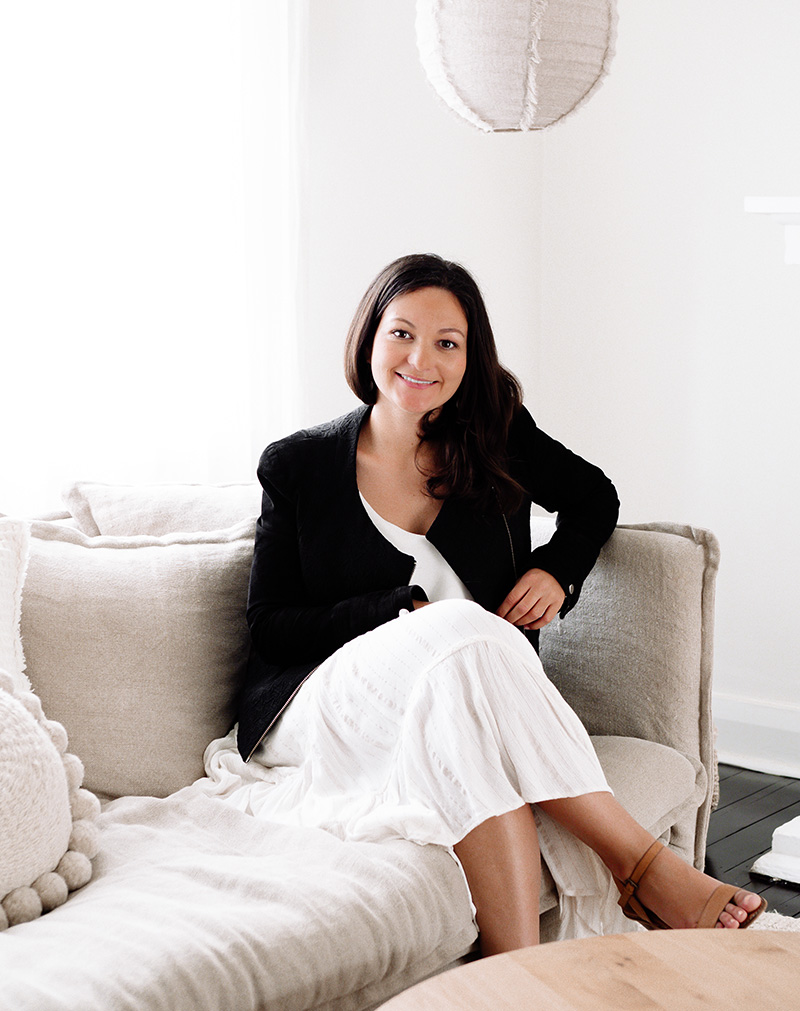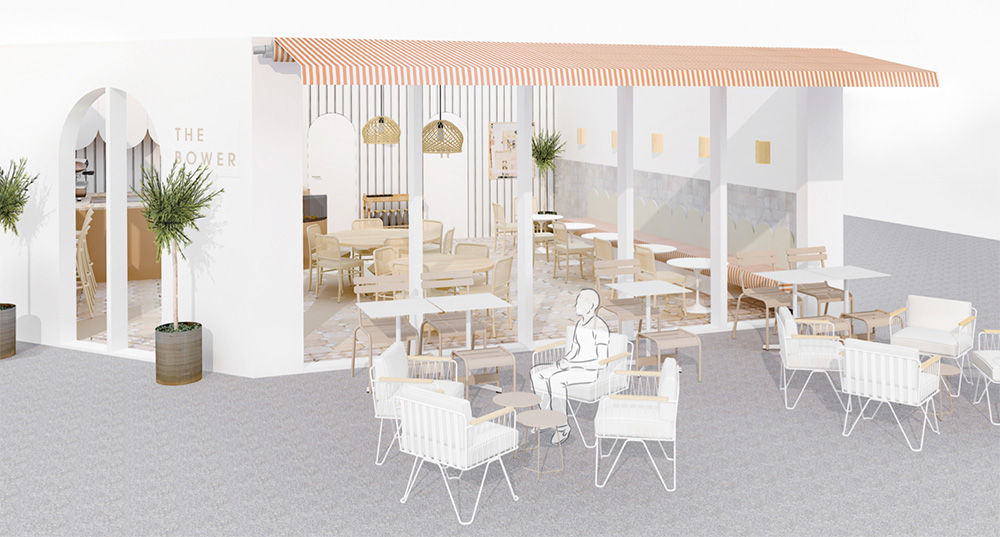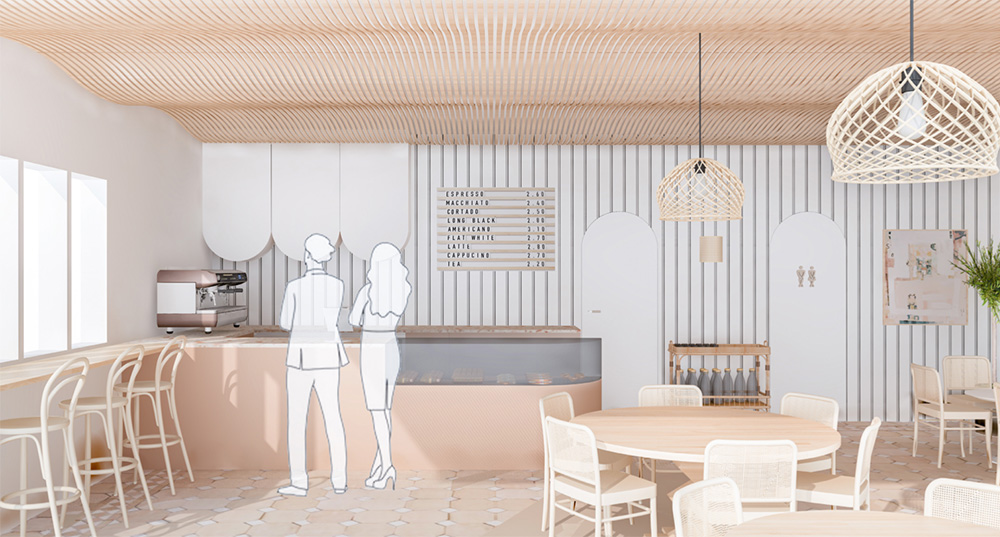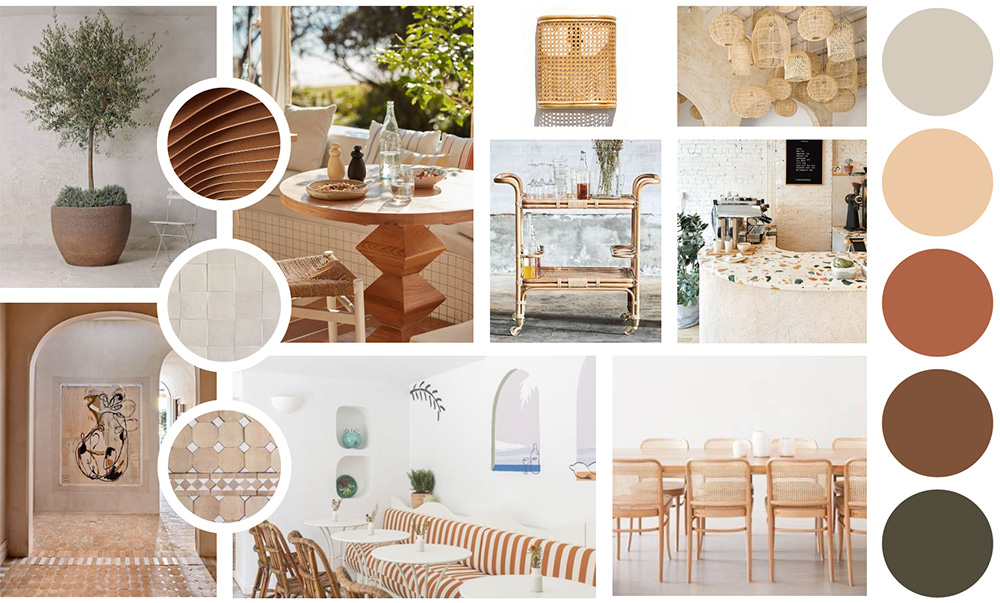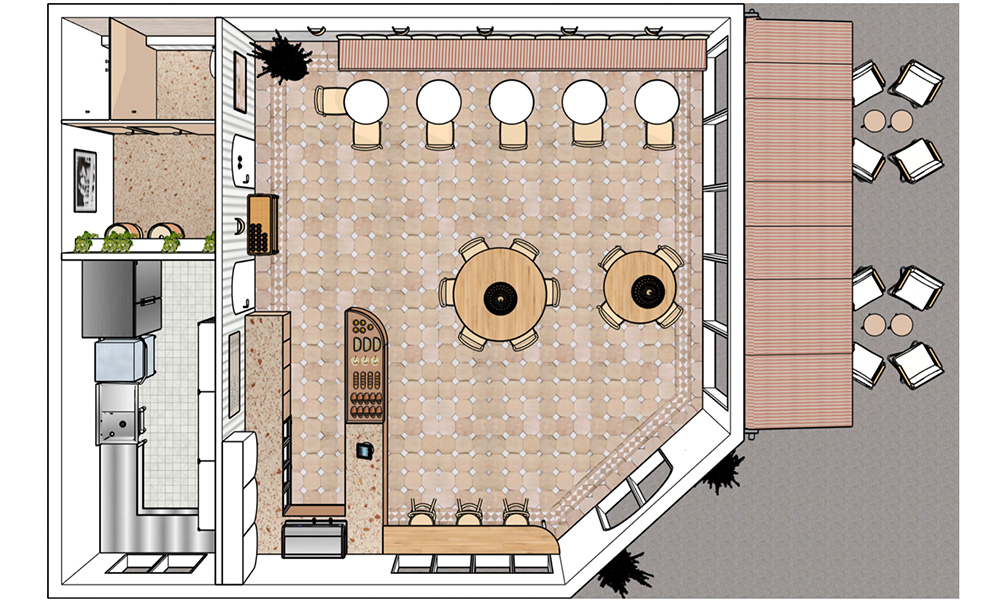 What led you to study interiors?
I did a Masters Degree at a Business School in France and decided to work in marketing – probably because it was the most creative thing I could do with my degree! After working for about 5 years in big corporations in the hospitality industry, I knew that I needed to do something more creative and with more flexibility.
I've always loved interior design. When I moved into my first studio apartment at 16 I drew the floor plan and made paper furniture to see what I could fit and how I could make the best use of the space – but never actually thought this could be my career.
My partner and I moved to Australia in 2017 and a weekend in Byron Bay was the catalyst for change. On returning to Sydney I spent hours researching online interior design courses that I could do while still working. My research led me to IDO as the best option and I'm so glad I enrolled!
How have you fitted study in with your work?
Up until unit 6 or 7 I was working full time in marketing so I was studying before work, during my lunch break, after work and throughout the weekends! It was pretty intense but I loved it so much that it wasn't hard to spend time studying!
In April last year, I decided to leave my job to focus 100% on finishing my studies and on my interior design business. I now have a few clients, a furniture business, admin work, one unit to finish and a wedding to prepare for next year so I'm busier than I've ever been – but I absolutely love it and have zero regret!
What are you enjoying about your course?
I love learning new skills and seeing how far I've come since I started the course. I also love that we're given a lot of 'real' projects to work on, it's very practical and not only about learning the theories.
You did an internship while studying, was it a valuable experience?
Amanda Talbot
is a designer I admire, she creates amazing spaces, so I felt super lucky to get an internship at
Studio Snoop
. It was really great getting practical experience and seeing that the tools they used were the ones we learned in the course. I got the chance to work on amazing projects while I was there and it was really exciting. I learnt a lot about their processes and working with suppliers. It was a fantastic opportunity and I learnt a lot – it also reconfirmed to me that I ultimately wanted to have my own business.
Do you have any advice for others studying at IDO?
Be curious and take any opportunity to learn new things! Go to trade shows, visit suppliers, reach out to graduates and other students, do internships, redecorate your own home, learn photography…
Images above  /  Agathe's stunning design for her cafe project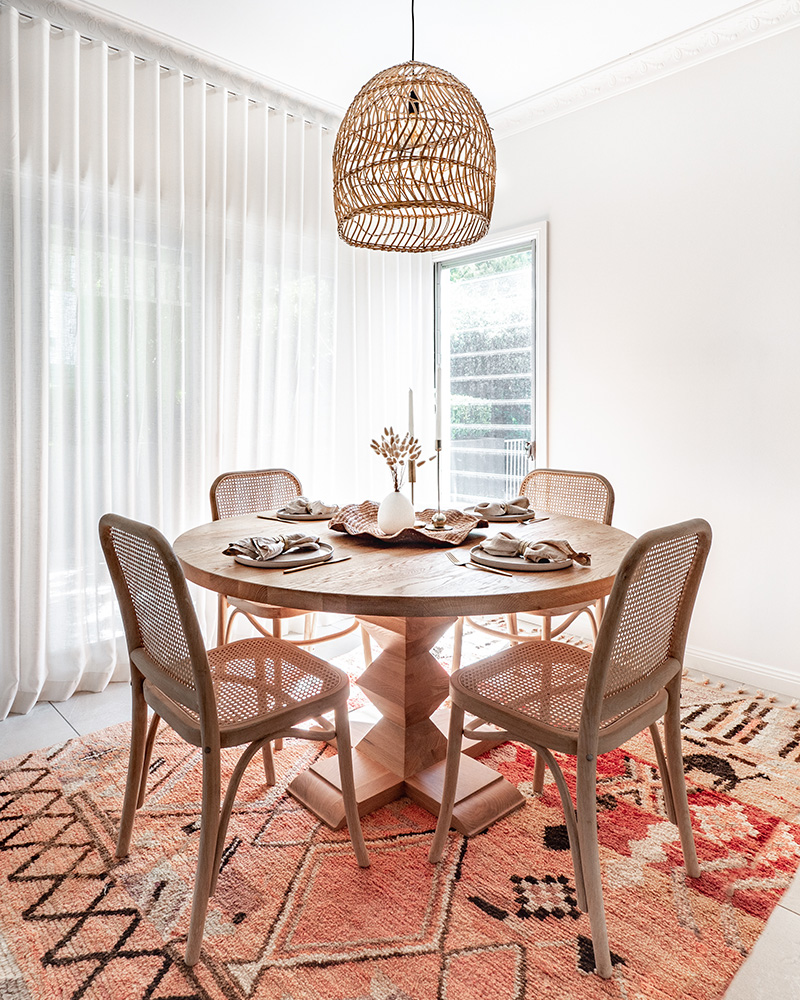 Your North Balgowlah project is beautiful can you tell us about the project?
My clients bought their first home last year and wanted to make it feel special as it was the first time they were to live together as a couple. They asked me to help them with the design of their living space and as they didn't have any existing furniture it gave me a blank canvas to play with.
I worked on a few concepts and layouts for their living space and ended up going with a look I describe as minimalist coastal with a touch of boho. The colour palette is mostly soft neutral tones, together with peach and black accents to add contrast and interest. We chose natural materials to create a relaxing vibe, went for large rugs to hide the floor tiles and floor to ceiling linen sheer curtains to add additional softness. The walls were painted in Dulux Natural White to add light to the space.
Did you learn any lessons along the way?
I had no idea there would be that many things to consider when choosing curtains, so I learnt a lot! I'm super happy with how they look and I now feel very confident helping my clients choose the right curtains for their space.
What did you enjoy most about the project?
I loved everything about the process: coming up with a concept, defining the layout, selecting furniture. But I found the most rewarding thing to be seeing the finished space, how everything came together beautifully and hearing my clients say how much they love it!
You've recently launched your own furniture design business! We'd love to hear about it.
They say that good design is born out of necessity. I adopted my cat, Moustache, a couple of years ago but living in a small apartment I had nowhere to hide his litter box. As an Interior Designer it was not going to be an option to have an ugly blue plastic litter tray sitting in my living room! I started searching for a good looking solution but couldn't find anything that would suit my interior, so I convinced my partner to build a nice little cabinet to conceal Moustache's litter box and also stop him from throwing litter everywhere.
I posted a photo of the finished piece on my Instagram and was inundated with tens of thousands of views, shares and comments with people asking where they could get their own! That's when I realised there was a market for beautiful cat litter boxes.
It hasn't been an easy process going from design to manufacturing, but I received a container full of furniture at the end of 2020 and I'm so happy with the result. They look beautiful and are very well made! They're selling really well and my clients love them, so I'm now starting to think about new pieces.
I've been doing everything myself: from designing the pieces of furniture, to finding the suppliers, organising the logistics, building my website and running ads on Facebook and Instagram, but I wouldn't have done it without the support of my partner who's been helping me and supporting me a lot along the way (I would probably would have given up many times without him!). It's been a lot of stress but I've learnt so much in the past year and I'm really proud of where the business is right now – my products have recently been featured in some of Australia's biggest interior design magazines which I am super excited about!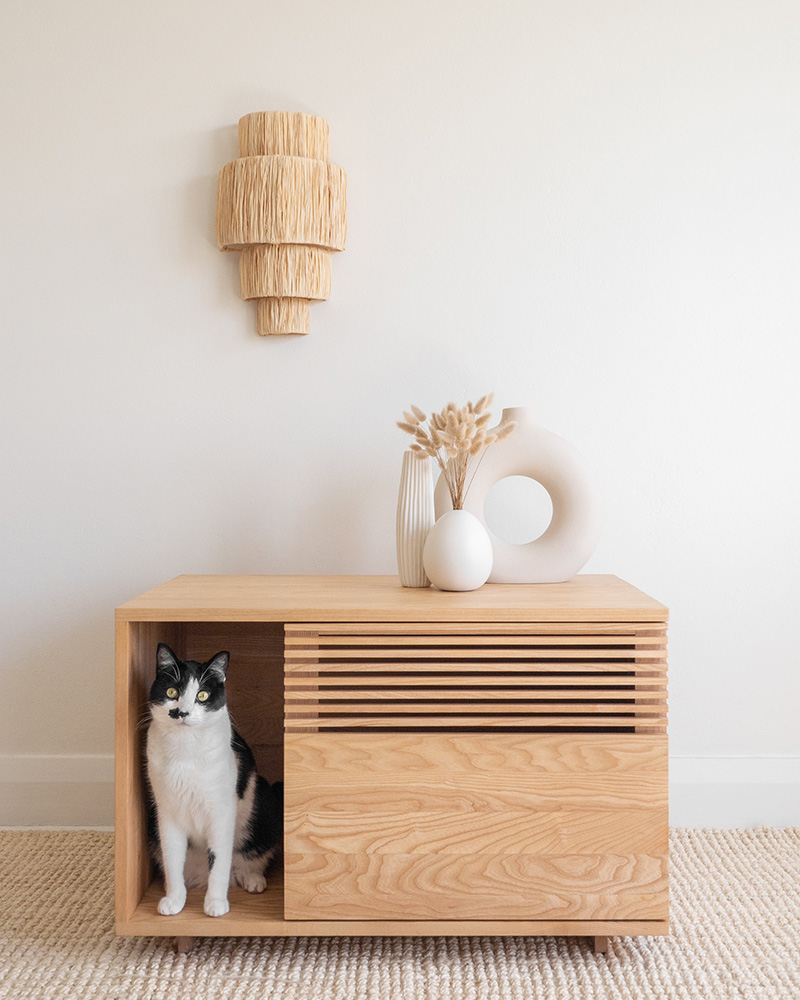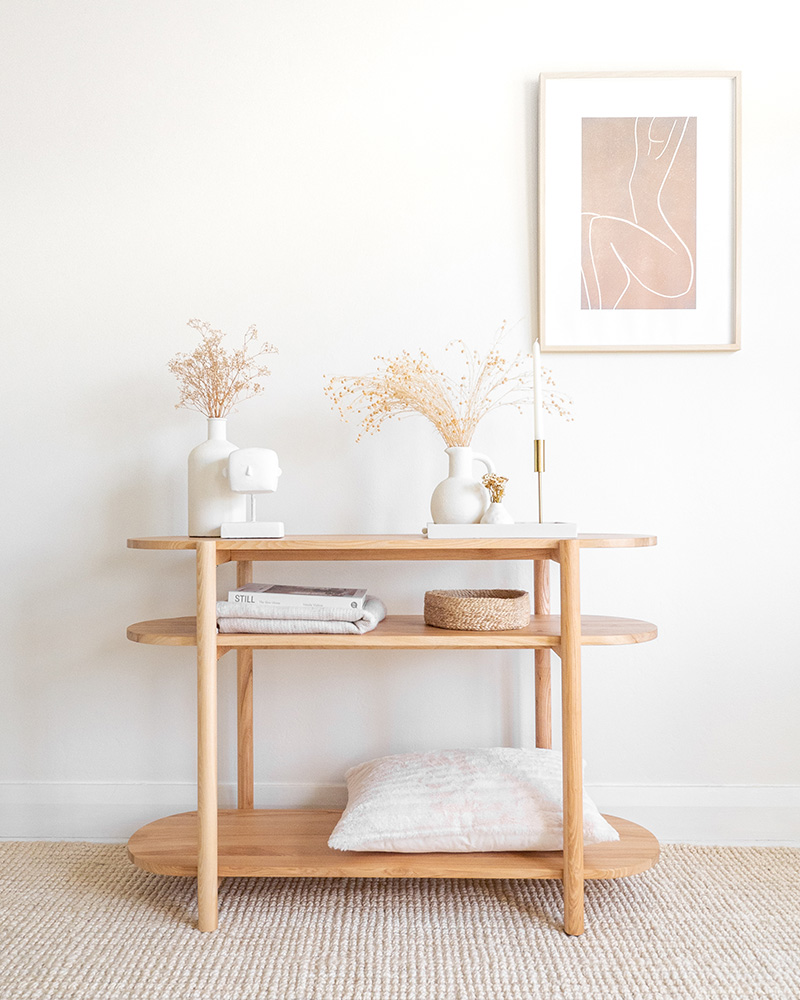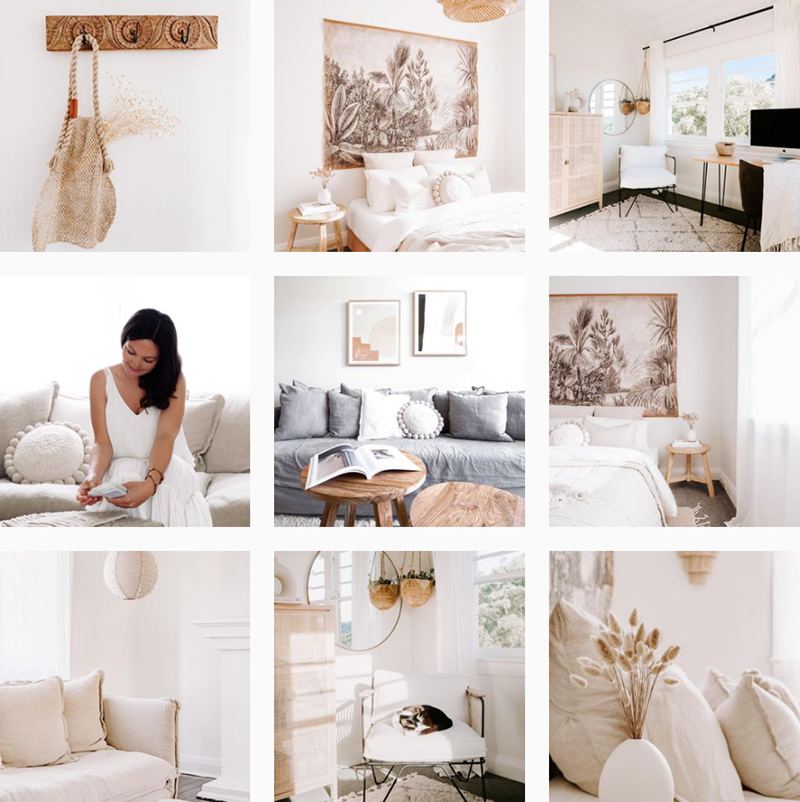 What's next for you?
Finishing my Diploma of Interior Design! I'm also currently working on a few more projects including a renovation on the Central Coast, a beautiful house in the Eastern Suburbs and a nursery, which I am super excited to see coming together.
Connect with Agathe and AMA Studio Interiors
Images above / Agathe's furniture line: Montmartre Cat Litter Box and Bastille Ash Console.
Left / AMA Studio Interiors on Instagram