Top tips // Give your living room a makeover for the New Year
We've pushed 'restart' for 2021 and it's time for a refresh! The New Year is the perfect time to take a critical look at the most used space in your home, update the style and ensure it's functional. We asked our Educators, who are practising Interior Designers and Decorators, for their top living room makeover tips – and they're budget friendly.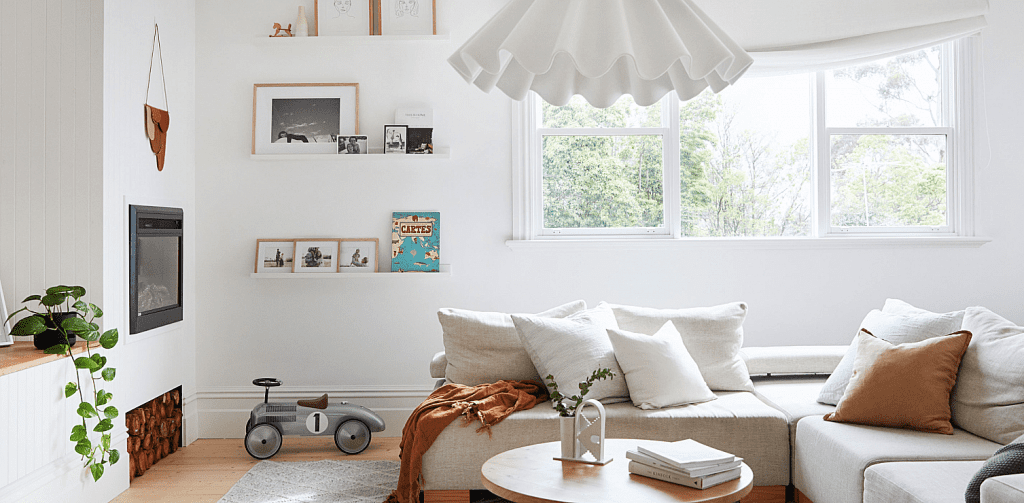 1 / Declutter
We all know how easy it is to let clutter slowly accumulate. Storage spaces overflow and piles of things start to build up on top of surfaces. Sometimes it just feels easier to keep adding to the piles than to make a decision about where to put something, or whether or not in fact you actually need to hold onto it… until you realise that you have way more 'stuff' than you actually need or want.
Decluttering can be a big job, but it's so worth it and a blank canvas is the best place to begin your makeover. Start by removing everything from shelves, the coffee table, sideboard and any other surface. As you remove things dust them and organise them in the hallway or another room. Allocate everything to either 'keep', 'put in storage' or 'give away' (to family members, friends or charity). Now clean the shelves and surfaces so you can start fresh.
2 / Rearrange
Now that your living room contains only furniture spend some time thinking about how the space is used and how people move around the room. Is it large enough to create different zones for different uses? Does the TV have to be the central focus or could it function somewhere else? Try moving the sofa away from the wall so you can walk behind it rather than through the centre of the room. Look at interiors magazines and Pinterest for layout inspiration. Experiment with different arrangements until you find one that looks good and is functional. This might be an ongoing process – you can continue to reassess and refine the layout based on how well it works. Give the floor a thorough clean.
3 / Choose a colour scheme
Colour plays a key role in creating the mood and style of every interior. Updating soft furnishings is the easiest and most budget friendly way to breathe new life and colour into your living room makeover.
Begin by removing cushions, throws and any other soft furnishings you can. The aim is to strip the space back so you can then build it back up with a fresh palette and look. Take a look at what you already have – can you build on it? For example you may have all neutrals at the moment and swapping out some for on trend terracotta and rose will create a whole new look. Or if you currently have a mix of colours you could choose one and go for a tonal palette. If you start with indigo for example, add teal and aqua for a sophisticated coastal vibe. A few new cushions and a couple of throws are a great way to change the whole look without spending too much money. Don't forget that texture is also a key element in creating a welcoming living space. Mix it up with crumpled linen or a chunky knit.
Consider also changing rugs and window coverings to compliment the colour scheme if your budget allows.
Paint is always a game changer! If you have bookshelves you can paint the back panel in a colour from your new palette. This will help to pull the whole room together, give the shelves a facelift and create a dramatic background for your styled vignettes.
Paint can totally transform a space and an obvious, but much bigger, project for your living room makeover is to paint the room. It's common advice – and absolutely crucial – to get sample pots and test colours on your walls before making a decision. Look at the colours on different days in different lighting conditions and also at night.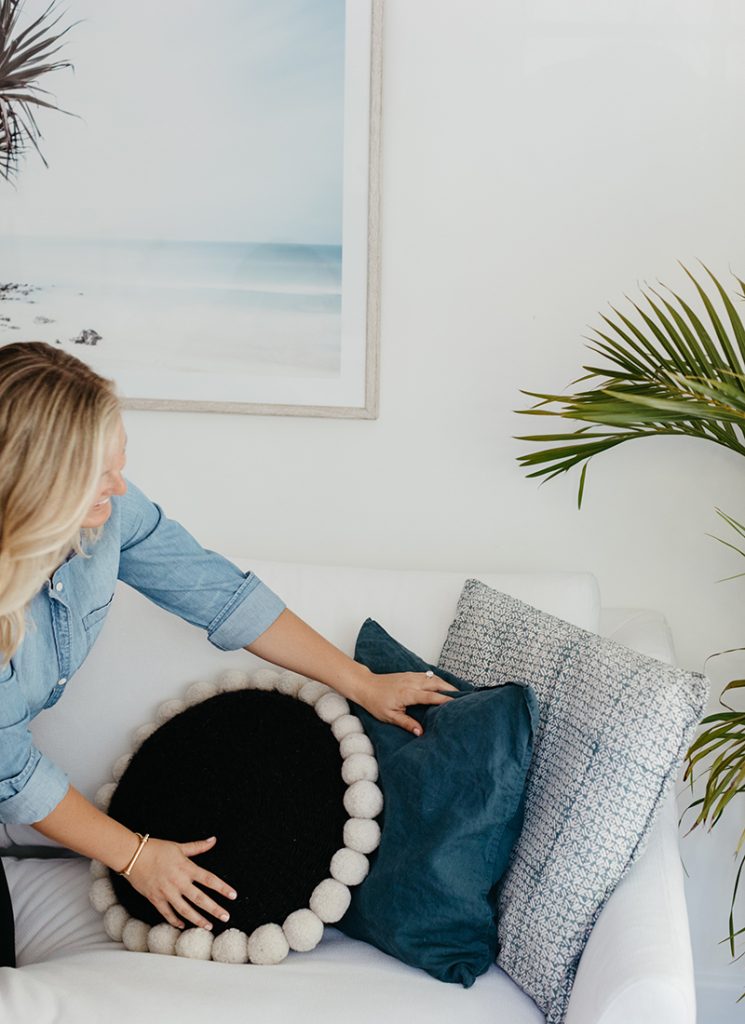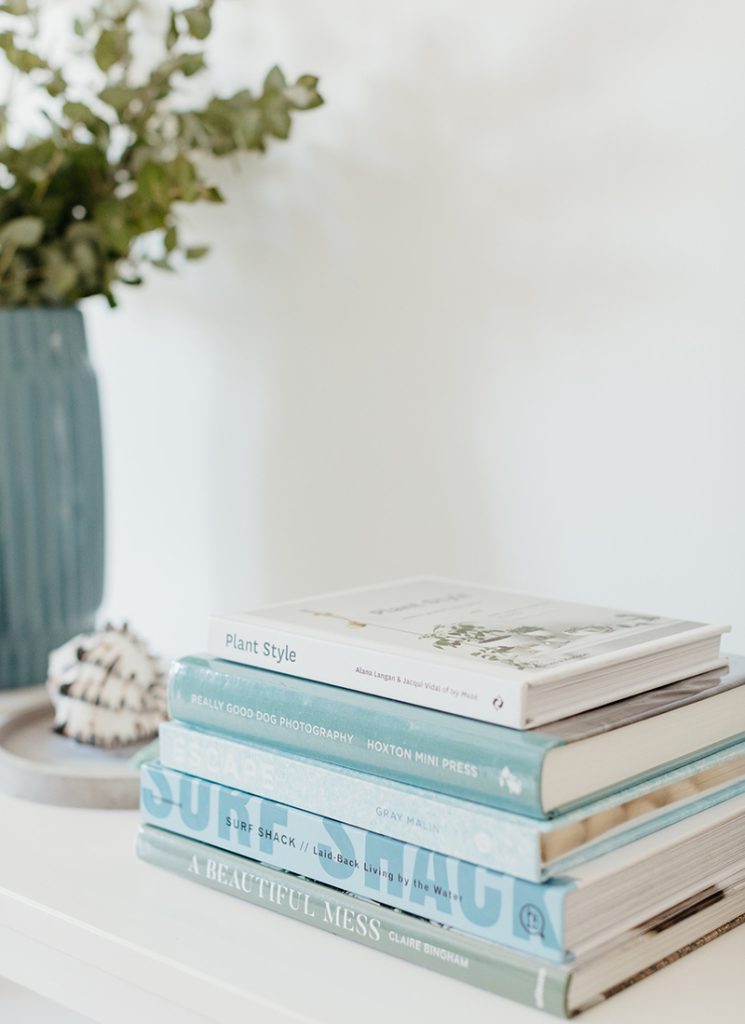 4 / Update furniture
You don't have to replace furniture to makeover your living room – giving it a refresh is much gentler on your pocket and the environment. Or look at online marketplaces for preloved pieces that will work in your space.
There are loads of DIY tutorials online that show you how to add new character and style to sideboards, bookshelves, coffee tables and chairs. An armchair or occasional chair will have a whole new lease of life when reupholstered. Would your sideboard look better if you sanded it back? Or if you added on trend wicker caning to the door panels? Or maybe you could give it a coat of paint?
An easy update for your sofa or sideboard is changing the legs. Take a look at large hardware stores to find all sorts of shapes, finishes and materials from wood to metal.
5 / Lighting
Don't underestimate the impact lighting has on interior style and mood. Take a look at the bulbs you're using. Do they cast a cool or warm light? Is this compatible with your new colour scheme?
The addition of a large pendant light can make an impactful style statement and can help to visually define a zone in your space. Floor and table lamps add interest and create more subtle mood lighting.
6 / Curate, edit and style
Once you've established your colour palette, furniture and room layout it's time to work out what other elements you'll bring back into the space.
With your new colour scheme as a guide curate and edit everything you removed in step 1. Take the opportunity to see what else you have in your home that will work in your living room makeover. The copper tray on your bedroom dresser might be perfect for the coffee table – the bonus is that as you swap things around other rooms will get a mini makeover too.
Consider your storage options and take a good hard look at what you'll bring back into the living space. The aim is to have a fresh, uncluttered room so be brutal!
Start styling. The rule of thumb when styling bookshelves or creating vignettes on a sideboard is to group things in odd numbers. Groups of three or five items are ideal. Consider shape, size, colour and texture in your groupings, with a tall item towards the centre. Move things around, try different combinations and stand back to view your styling in the wider context of the room. Challenge your thinking… books can look good stacked rather than all standing in a row. Sit a favourite ceramic bowl on top of a small pile of books. Group similar spine colours together.
Collections of similar items can look fabulous grouped. You may have a lot of clear glass vases. Instead of storing them in cupboard consider how the different sizes and shapes would look grouped together on a high shelf. Try popping some foliage randomly in a couple of them.
7 / Indoor plants
Indoor plants are still trending, but beyond that they are invaluable for creating a sense of wellbeing in our homes. You can introduce large potted plants as points of interest, add small ones to shelves or hang them from the ceiling. As with any elements you add to your living room makeover, choose indoor plants based on size, colour and shape… and varieties that you can successfully keep alive!