Student profile // Meet Melissa Garrett
Melissa has gone from raising her two girls while owning a Massage Therapy business in a remote town in the Pilbara, Western Australia, to studying interior design and completing a gorgeous renovation of her family home.
While juggling the family and reno Melissa completed her Certificate IV in Interior Decoration. She's planning to continue on to get her Diploma of Interior Design and ultimately have her own interior consulting business and work with her husband to renovate houses.
Why did you decide to study interiors?
I've always had an interest in interior design. Even as a child I would rearrange and organise spaces to make things feel and look better. Later in life this turned into an obsession with interior design magazines, books and shows. I would even find myself whenever I was in a new space, creating a whole new interior in my head.
It was ultimately traveling that really grew my appreciation for interiors and architecture. A trip to France and Italy in 2017 really sealed the deal. I spent the whole 6 weeks in complete awe of the history of design and the architecture. The details in every aspect of the places we visited were just stunning and it shifted something for me internally. I really felt it at my core and it created a yearning to be surrounded by such beauty in my own country and own home. Upon my return to Australia it was the natural next step for me to enrol into Interior Design Online.
What are you enjoying about your course at Interior Design Online?
I'm not sure how I can possibly consolidate this into a simple answer! I have loved every aspect of the course. It has made me hungry for more and more knowledge. From the history of design to the elements and principles of design, it's all been a great learning experience. I have now completed my Certificate IV in Interior Decoration and hope to continue on to do the full Diploma of Interior Design soon.
How have you fitted your online study around other commitments?
Studying online has suited me so well. I am a mother of two, we had just moved into a new part of the state and we were undertaking a full renovation in our own home while living in it. I was juggling mothering, the design of the renovation as well as project managing all of the trades and undertaking my studies. It was challenging at times but the way the course is set up I never felt any pressure and everyone at Interior Design Online has been a pleasure to deal with.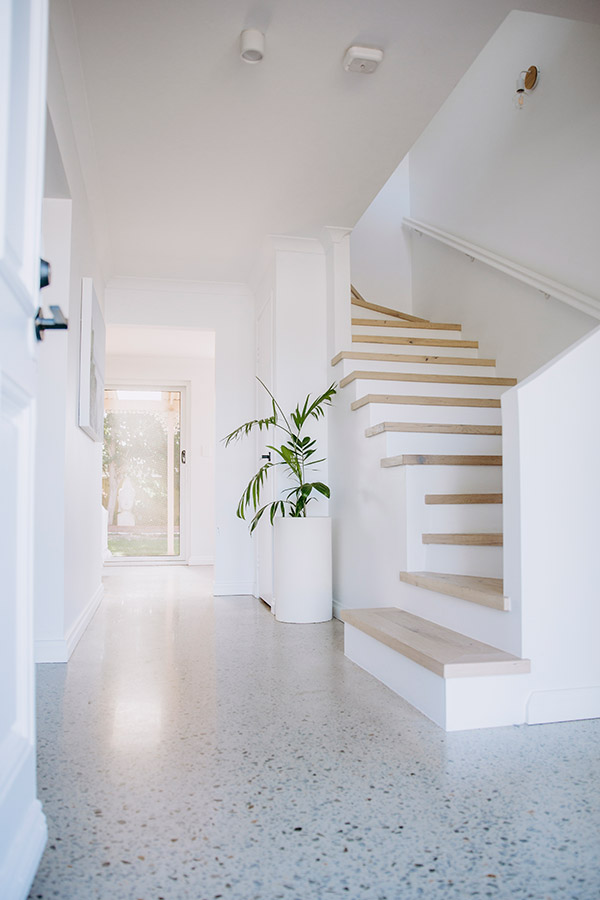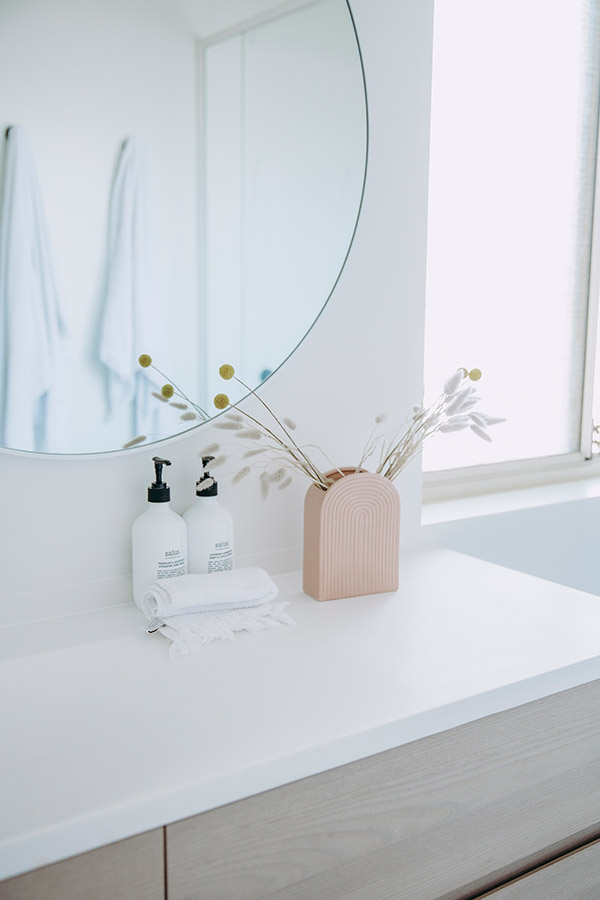 Tell us about your amazing renovation
Our renovation took around 18 months to complete…… I use the word complete loosely as we are now currently working on the exterior and still doing finishing touches internally. For example, I am still yet to choose all of my art work, rugs and styling pieces. I'm a big believer in only having the things you love in your home and I'm yet to find the key pieces to fit my family. I like to collect, not consume.
When we purchased the house, I had so many people tell me not to buy it as it was too small and too dark etc but I could see the vision right from the moment I stepped in the door way. I loved the bones and could see how it could become the perfect little family coastal home. It was only a few days after we arrived home from Europe and the home was built by a Dutch couple. I think it was the European influenced design that really made me want it.
This was our first renovation and luckily, we didn't have any major surprises thrown our way. I would definitely say that the most difficult part of the renovation was the project managing, but the positive that has come from that is that it has equipped me with the confidence and skills for future renovations. Real life experience is definitely invaluable.
Do you have a favourite aspect of the reno?
I'm probably most proud of the way we have been able to now create a home full of natural light, beautiful natural finishes and a sense of spaciousness and calm. It's the opposite to what you would feel walking into the doors prior to the renovation.
It would be hard to pick a favourite element but I do absolutely love the flooring. We chose an engineered timber for the stairs and second level which has a real organic raw texture that feels so homely and cosy. Downstairs we had the slate flooring removed and the original slab mechanically polished with a matte finish. It feels so solid and smooth underfoot and helps reflect the natural light. People always compliment the feel and look of the flooring.
Any advice for renovators?
Always listen to advice from trades but ultimately don't be afraid to speak up when you don't feel that something is right.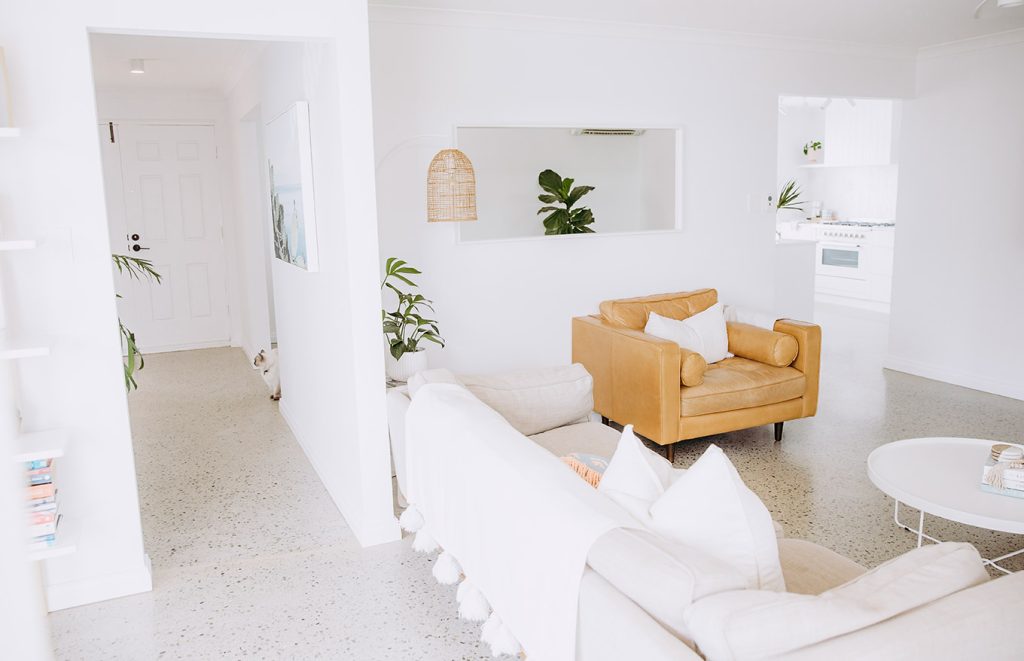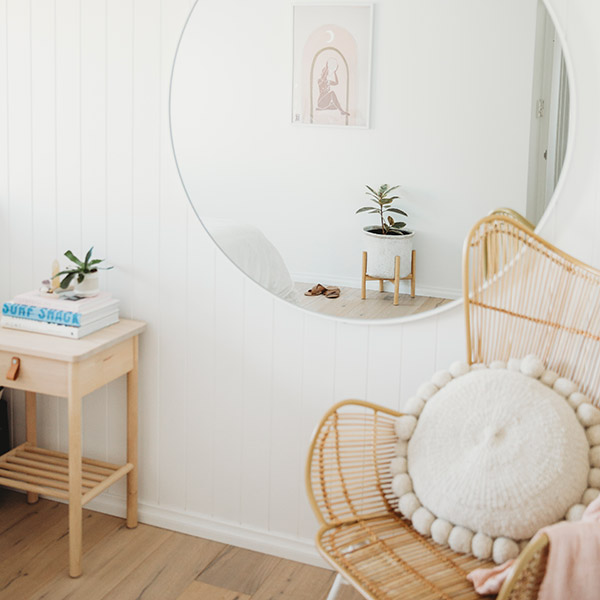 Fast five
Words to live by… You can always make more money but you can't buy more time.
Go-tos for inspiration  My inspiration is mostly offline through nature and travel. Sometimes we need to not only see things but also experience them for ourselves. I do love Pinterest and Instagram, they're both full of inspiration.
I can't live without… My loved ones, yoga, coffee and a good design magazine.
I'm passionate about  Travel and creating beautiful spaces that provide a sense of calm and peace.
I'm reading  The latest Inside Out magazine and I'm re-reading my favourite Design book, 'This is Home' by Natalie Walton.
Melissa Garrett is studying for a Certificate IV In Interior Decoration. Find out more about her course here.
You can also follow Melissa on Instagram @melissagarrett_interiors