Colour Trends // Milan Design Week 2021
Salone del Mobile has been held in Milan in April each year for the past 60 years and is a must-see event for eager crowds of international designers, architects, and artists hungry for their fill of inspiring contemporary design.
This year due to the global pandemic it reimagined itself into a much smaller but still wildly exciting fair in September. Dubbed "Supersalone", it was jam-packed with innovative and enthralling design.
A former residence of Milan, who now calls Australia home, is Architect and Journalist, Sonia Audoly (pictured). She has been part of many Salone del Mobile events and while she was unable to attend this year, her experiences and intimate understanding of this truly amazing event made her the perfect person to share her insights into this year's fair.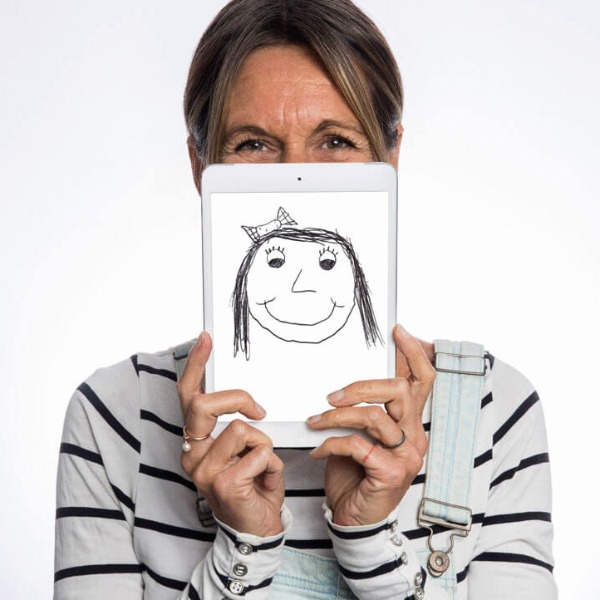 "This year was all about green with a touch of terracotta" – Sonia Audoly
Salone del Mobile has always championed the importance our natural environment plays, not only in providing inspiration, but as an essential life force interconnected with our very survival. It took this conviction to a new level this year with the whole Salone's internal structure on which exhibitors showcased their designs, being made from material that was able to be deconstructed for reuse and then composted. This saved an incredible 1.2 million kilograms of CO2 from being pumped into the atmosphere.
It is hardly surprising with nature being the celebrated hero of design that green would be heavily featured, but the earthy terracotta has made a heady comeback. Not the twinge worthy hues of the '70s kitchen floor tiles, but rather in a sophisticated and delicious way. From engineered stones and handcrafted tiles, to textured rugs and luxurious velvets, green and terracotta are a match made in heaven (or nature!).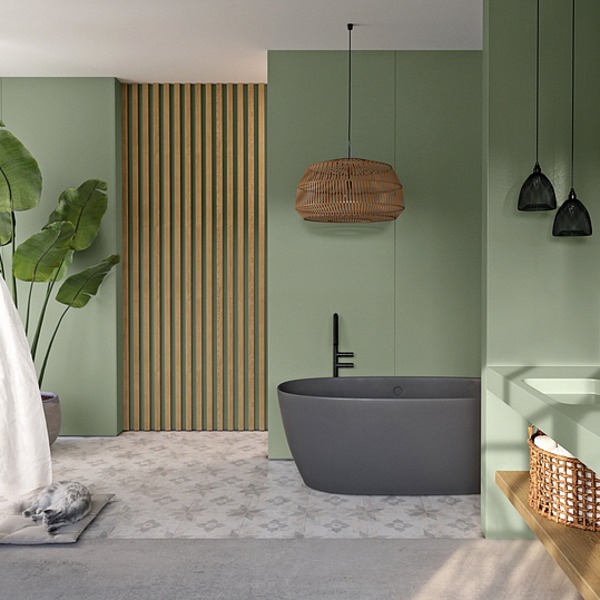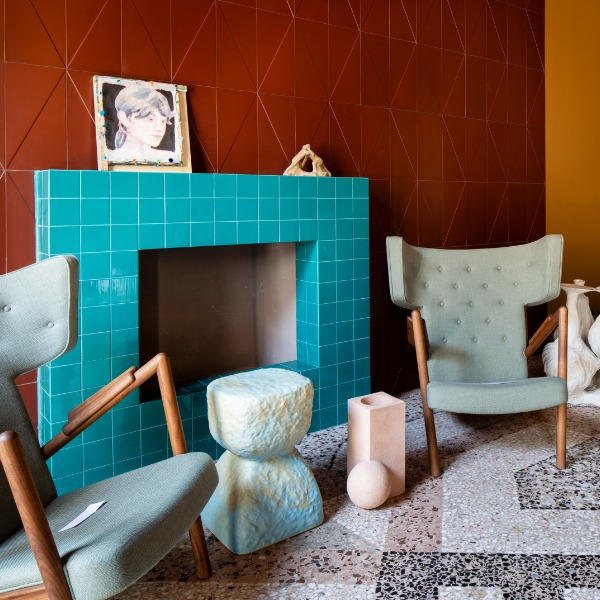 Cosentino's new collection of quartz and hybrid mineral surfaces, "Sunlit days" comes in earthy colorways derive from "back-to-basics Mediterranean living". Furthermore, Cosentino's commitment to putting the planet first sees its production processes using 100% recycled water and 100% renewable energy resulting in a completely carbon neutral product.
Josephine Akvama Hoffmeyer and Elisa Ossino are long term collaborators who staged another visually captivating installation titled "I will be your mirror". Born out of reflection on humans' relation to its physical and spiritual surround, a curated selection of objects and custom furniture were staged in rooms of an apartment that featured handmade clay tiles on floors and walls in rich earthy tones coupled with pops of colour.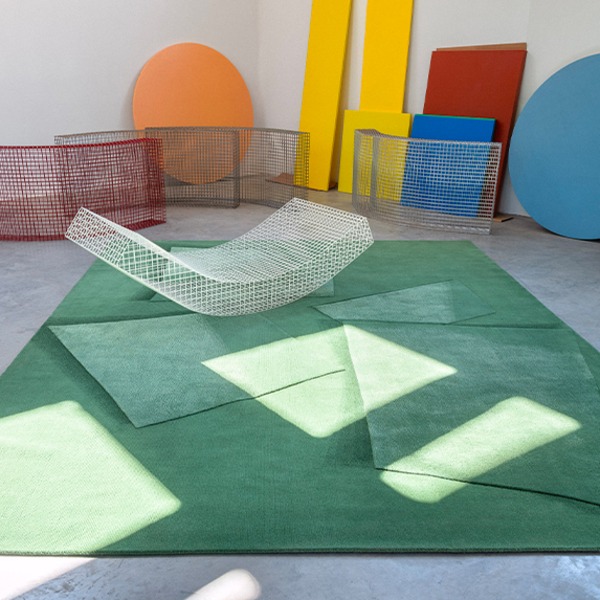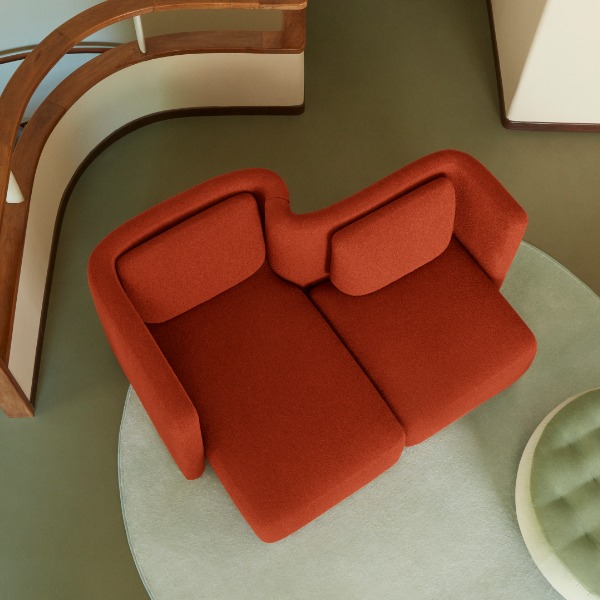 Italian rug company CC Tapis' Ombra handmade rugs by Muller Van Severen are an experiment in layered tone and shadows. Composed of cotton, Himalayan wool and silk pile, these rugs seem to sit somewhere between design and art. They are available in mutli-coloured and monochromatic options, including green and brick.
At Salone Saba presented exclusively the new Gala seating system designed by Cristina Celestino. With a reference to '70s retro furniture, the collection has a sculptural and yet grounding volume to it. It aimed to place the sofa as a place of exchange that shapes interior spaces, not merely as a functional product. With its plush velvet upholstery in green and terracotta who wouldn't want to sit and chat?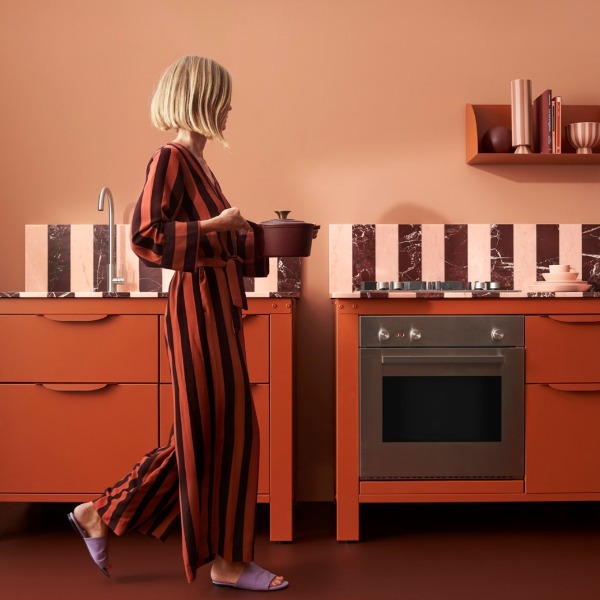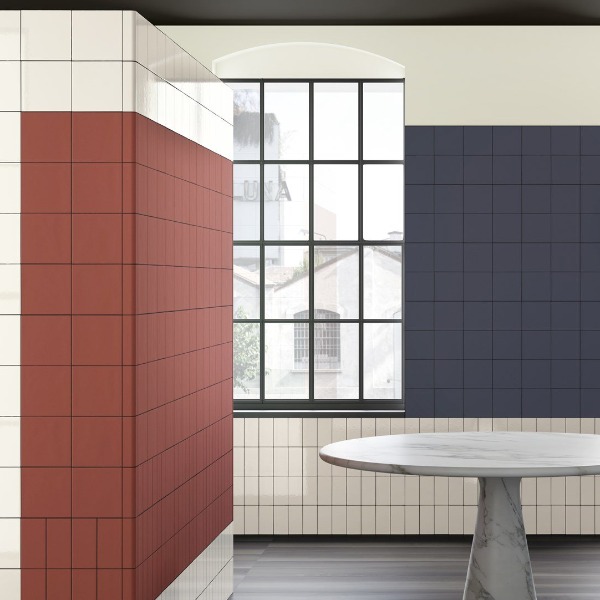 Tekl, an Italian company known for it custom kitchens which move residences with you, showcased their cook, wash and prepare kitchen 'blocks' in terrracotta and tumeric. Coupled with funky striped upcycled marble benchtops and splashbacks, this is a result of an exclusive collaboration with Swedish designer Tekla Evelina Severin.
DIN is a new way of conceiving a modern mosaic. The four different sized tiles all fit into the same grid, giving the flexibility to create a variety of geometries, surfaces, and patterns. With its range of 8 colours (including dark green, light green, rose and red) and 2 finishes, matt and glossy, the sky's the limit for creative potential.
This beautiful colour combination of cool and warm tones is set to feature in interiors for the foreseeable future. From finishes to furniture, kitchens to living spaces and beyond, this natured inspired pairing is set to achieve dizzy heights in the design world.