Top tips // 5 sought after interior design styles and how to get the look
To successfully pull off a particular interior design style you first need to understand the elements of that style. The key features will include colour palette, materials, finishes, and furniture selection.
There are many different interior design styles, but we've chosen 5 of the most sought after looks to share here. No matter which aesthetic you want to achieve the important thing is to research. Create Pinterest boards, follow Instagram accounts that focus on your chosen style and bookmark the images.
Industrial
The Industrial aesthetic has the rustic appeal of a Brooklyn loft. Think steel, exposed beams, raw brick and white rough finished walls, large metal framed windows, and at the extreme end, exposed pipes and ducts. Floors are generally polished concrete and finishes are robust and resilient such as commercial tiles, steel mesh and recycled timbers. Furniture will often have metal legs or castors and distressed leather or timber elements. Colours are masculine.
Interior design by Arent & Pyke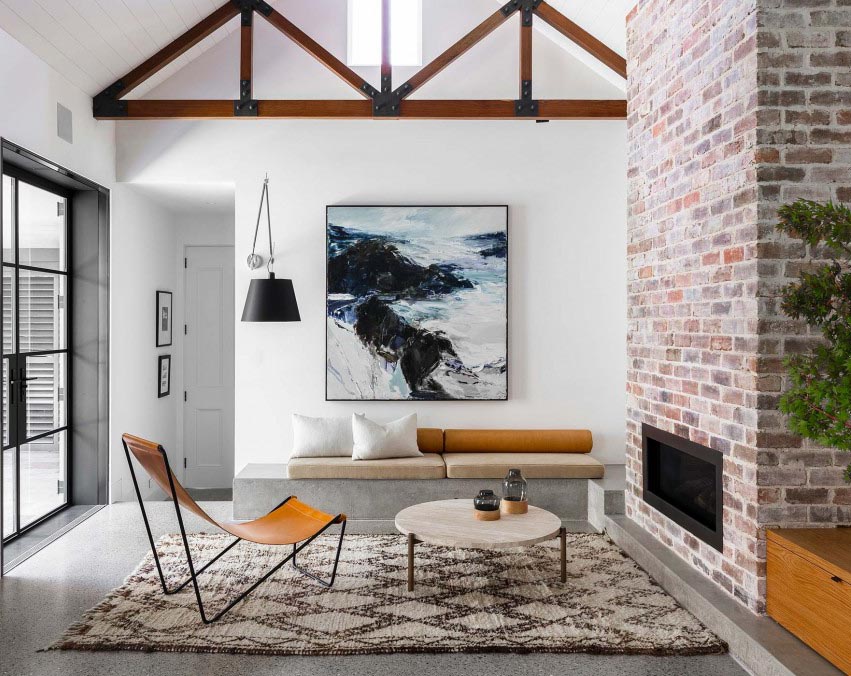 Coastal
Typical features of this style include pale and whitewashed wood and a distinct palette of white, neutrals, blues and aqua. The minimal palette can be paired with crisp linens, stripes, wood, rattan, white plantation shutters, and ethereal drapes. Timber floorboards finish the look in any colour from walnut to lime washed.
The Modern Coastal aesthetic can feature accessories such as specimen shells, coral, or driftwood but not in a heavy handed or clichéd way. Both contemporary and traditional furniture work with this style.
Interior design by Kyal & Kara
Minimalist
Minimalist spaces are simple, refined and uncluttered with smooth clean lines. Open plan living flows into, and visually links with, the exterior entertaining spaces, while built in joinery provides sleek unobtrusive storage. The minimalist aesthetic also features a minimalist colour scheme – usually whites and neutrals with rich accent colours. Floor finishes are sleek and resilient, like stone, concrete, tile or timber with geometric or textural rugs.
Design by Matyas Architects
Scandinavian
Traditional Scandi style is based on neutral colour schemes. There's a particular emphasis on white and pale wood. This palette is enhanced with the use of natural materials and textures including fur, leather, felt, linen and wool. Often elements from nature, like sculptural branches, are included.
Colour and pattern are minimal, but can be introduced if desired through the use of interesting accessories, rugs or art.
Interior Design by My Scandinavian Home
Eclectic
Although an eclectic decorating look is about bringing together various styles and pieces it still requires a very considered approach. Eclectic style is all about artfully combining things from different eras and making them work as a cohesive whole. There's no definitive colour scheme or rules for this look, but it requires a lot of skill so that the interior doesn't look like a thrift shop or hoarder's paradise! The key is to avoid clutter.
Photos via Light Locations