Student Profile  //  Meet Marni Poropat
From a childhood passion of drawing many renditions of her future home (complete with stables!) to a career as a business project manager for large corporates, IDO Certificate IV in Interior Decoration student Marni is looking to combine the two into an exciting new career.
Why did you decide to study interiors?
I seem to do a lot of interior decoration for friends, family and at the office where I work, and I've loved planning interiors since my childhood house drawings!  In my day job as a Project Manager for large corporates I design how they do business more efficiently and effectively, mostly enabled by technology. I'm a bit of a fan of a home automation gadget also! I ensure that the project stays on time and on budget and of course that the customer is happy.  So I decided it was time to combine the two and see where it takes me. I've recently tackled a large home renovation in the Southern Highlands of NSW (featured in this post) and I've been so pleasantly surprised with the outcome and feedback.  I'm motivated to keep going!
I've always loved a space that makes you feel like you want to stay – cosy, textured, luxurious but at the same time comfortable.
 

Whether it's your home, office, a café or your childhood bedroom.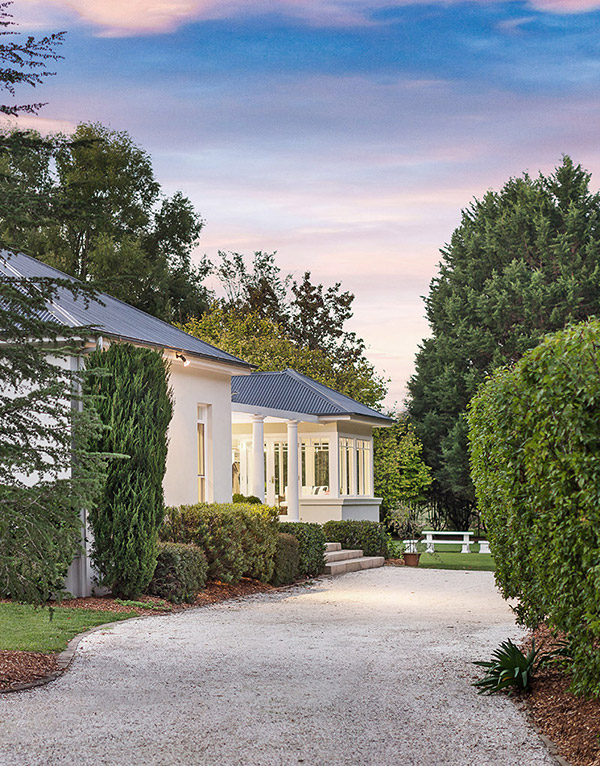 What are you enjoying about your course at IDO?
I love that IDO is self paced because I'm always juggling home/work/study! The bonus is that I can get online and research, learn, ask questions, and get feedback and support from such a great group of people. When I've had really busy days at work, IDO helps me to switch off from my day job and get lost in my love of interiors and design. It's invigorating!
I try to ensure I spend two half days per week and some evenings on my course. I spend some time early in the week preparing for the week's topic and I research and read online content once my son is in bed at night.  I then spend some time later in the week to finalise my submission.
My husband, son and I have just moved to Singapore and it's wonderful to be able to continue my studies uninterrupted, regardless of where I'm living. I plan to continue on to do the Diploma course after this, as I want to combine my love of decoration with the more technical skills of interior design, together with a bit of technology to support my presentations.
"I made excuses for many years about why I hadn't studied design and now that I'm finally doing it I love it!
  The 

IDO team were so supportive through the process of committing to the course, so if you're considering it and there's a roadblock for you, talk to them!"
Tell us about the Southern Highlands home that you've just completed
The exisitng home was a combination of Georgian meets Tuscan and the interiors were lemon! Being a large project it was tackled in phases, with a brief to create a forever family home that felt comfortable, fresh and practical.  
I started with the main family area and used a classic palette of white and indigo with materials that include linen, oak and natural fibre rugs. The main lounge and dining space was a challenge because of the sheer scale – it's huge! I decided on a Hamptons aesthetic with custom cabinetry because of the orientation to the garden, opening up the doors in summer to have an indoor/outdoor entertaining flow. The decorating scheme for the rest of the house followed on from this.
A challenge in this house was the floor.  The existng hardwood flooring was beautiful but the red tones just didn't fit the aesthetic I wanted. The new matte Black Japan stain I chose works with the Hamptons theme and provides a dark tone that feels cosy and warm. 
This project was commenced prior to my IDO journey and continued as I studied. I can honestly say IDO was the confidence boost I needed to finish it!  I decided to have it professionally photographed for my portfolio and the feedback has been amazing. Of course a talented photographer helps! Aaron Perkins took these shots and he is amazing!
What are your go-tos for inspiration?
Instagram, Pinterest, home and travel magazines and real estate.  I love real estate!  In addition to finding interesting ideas I often find myself coming up with solutions for design challenges I see in real estate listings.
Favourite apps and websites?
I'm really into home automation at the moment, so I've been testing a number of apps on my phone.  I love follow links from Pinterest to new websites – I find so many interesting new ideas this way. Also flicking through the interiors on the Restoration Hardware website and the paint companies Dulux, Porters and Haymes is always inspiring.  My all time favourite source of inspiration is Ralph Lauren Home.
Fast five
What are you passionate about? All things design, whether it's business design, interiors, architecture or technology.  That and real estate with stables!  I've loved to ride since I started aged 4 and it's a passion I will always come back to.
New clothes or new phone?  Clothes… although I do love a bit of new tech.
Passenger or driver? Definitely driver!
Shopping online or shopping in store? Online… I have no patience for stores anymore.
Netflix or cinema? Netflix… at home in front of the fire.